PokerStars Ontario hit its highest level in cash game activity despite a newcomer joining the province, pokerfuse can exclusively reveal.
The seven-day moving average, tracked by independent monitor GameIntel and available only on the Poker Industry PRO platform, shows that PokerStars Ontario is filling an average of 234 seats at its cash game tables over the last week.
What makes the growth even more impressive is that PokerStars Ontario is peaking at an all-time high despite WSOP Ontario entering the market and carving out nearly 50% of the market share. However, WSOP's launch in the real money Ontario online poker market has not hindered PokerStars' growth. In fact, since its launch, PokerStars Ontario is up by 12.5%.
PokerStars Ontario: Key Highs Since its Launch
Traffic peaking at an all-time, averaging 234 concurrent cash game seats
Reporting growth despite WSOP Ontario taking a significant market share
It is up by 12.5% since WSOP/GGPoker entered the market
Currently holding a 30% market share in Ontario
Led the market for nearly two months
Comfortably leading over BetMGM and 888poker
Recently ran its first ONCOOP series — the fourth tournament series since its launch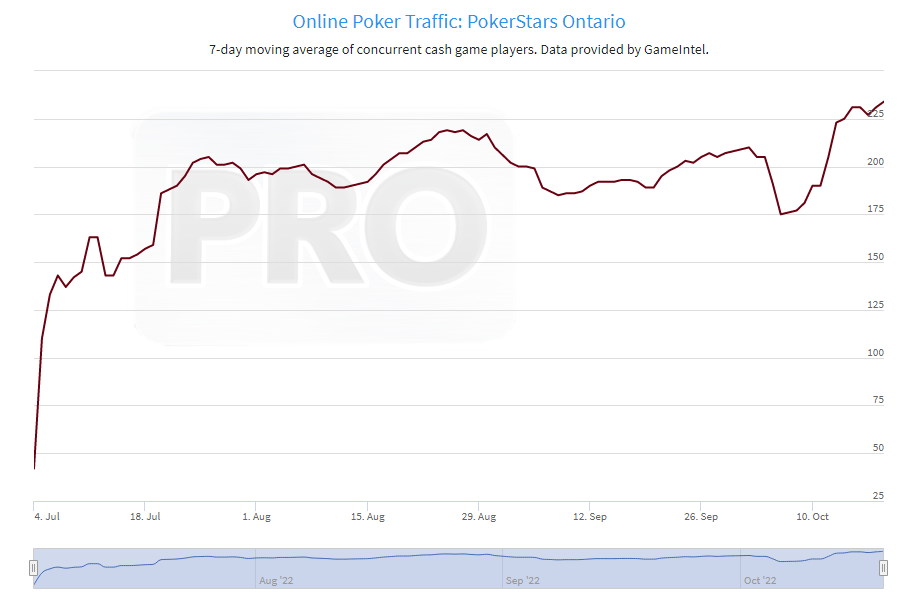 PokerStars Ontario: Four Months On — How is it Doing?
PokerStars launched its Ontario-dedicated real money client in late June. It became the fifth regulated online poker room, going up against 888poker and the combined efforts of BetMGM Poker Ontario, partypoker, and bwin, which are pooling in-state liquidity on a single network.
It brought a huge chunk of its existing player base into the newly regulated market, but it had to wait a few days before it could take the top spot for cash game activity.
PokerStars launched in Ontario to great fanfare, with ambitious tournament guarantees and game offerings not offered elsewhere. It also soon launched a tournament series, which was the province's first since the market went live.
On July 11, two weeks after the site went live, it pipped the BetMGM Poker Ontario Network to take the pole position. But the BetMGM Network, which has no history of operating beyond the US markets, gave a tough fight and snatched the crown from PokerStars. For the next two months, both networks traded places on multiple occasions, and at one point, BetMGM peaked at 276 seats on a single-day moving average in late August and had a decent lead over PokerStars.
However, since then, BetMGM's traffic spike has shrunk and dropped by a sizeable 44% since its peak in late August. But it is still up by 25% since WSOP started dealing hands in Ontario.
Ontario Online Poker Market Riding High on the Back of PokerStars & WSOP's Launch
The market, on the whole, is now recording an average of just over 750 cash game seats on the seven-day moving average, with WSOP Ontario receiving the highest traffic, averaging 345 seats and a market share of 46%. It may seem like there may have been cannibalization with newcomer WSOP chipping away at the Red Spade giant, but the opposite has happened.
PokerStars and BetMGM saw a spurt in their traffic, while 888poker was unaffected. This clearly shows that the addition of WSOP to the nascent Ontario market has had an additive effect, with the total market more than doubling from 355 seats to 757 — a growth of 132%.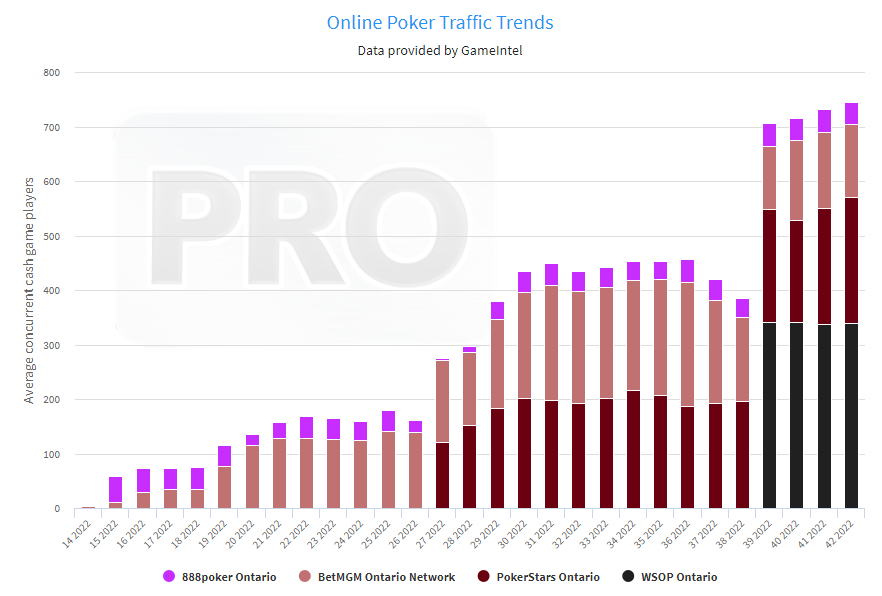 BetMGM Ontario, which led in August, could not maintain its growth, occupying third place in the cash game rankings, representing 18% of the market. Meanwhile, 888poker has struggled to increase its traffic since its launch in the province. No promotion has given it a traffic boost of the same magnitude as its competitors, and it appears to be playing a waiting game. However, it launched the booming Mystery Bounty format in tournaments, becoming the first operator in Ontario to roll out such a feature.
One factor that may have contributed to PokerStars' cash game traffic growth in Ontario is a promotion the operator launched. It will be interesting to see if PokerStars Ontario can maintain its traffic once the promotion ends. The same goes for the newly launched WSOP, which is currently enjoying the honeymoon period.
WSOP is also the last operator to have entered the market. Ontario players playing on GGPoker before the migration completed with the rest of the world with higher guarantees and more comprehensive promotion options. This would have motivated Ontario players to switch to GGPoker away from the segregated Ontario rooms.
But with every room now operating in a ring-fenced environment with no access to the global player pool, the market has become level, which could even out the distribution of players. WSOP Ontario could lose some of its traffic once the novelty wears off or if PokerStars gains. WSOP could also solidify its position — only time will tell.
Source: pokerfuse.com